By Shannon Stewart
We recently interviewed two couples that have built homes in Savannah Lakes Village within the last year. Both purchased lots, chose a builder, and made all design and appliance decisions while living out of state. One couple-Bob and Liz-moved to Savannah Lakes and lived in a rental while their home was built. The other couple-Beatrix and Angelo-lives in New York and made several trips to Savannah Lakes Village during their build, but relied heavily on communication with their agents and builder.
When about their experience choosing Savannah Lakes Village and building with Capital, all agree that our the community is a gem: well established, unique, and affordable. Building here was easeful and efficient. Designing their dream home here was monumental.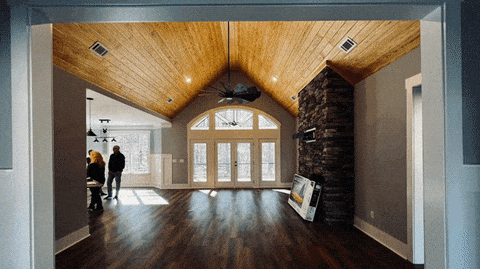 Meet Angelo and Beatrix
Angelo and Beatrix decided to relocate two years ago. They did an enormous amount of research focused on the Mid Atlantic and Southeast. They were looking for "an extremely unique, active adult community with a variety of amenities." Moving to an established community with woods and water was a top priority.
They researched a long list of communities and their amenities; both were amazed by Savannah Lakes Village's low HOA fees compared to other places.
Even when narrowed down to their top three choices, the other two communities required an initiation fee in addition to roughly $1000 per month. Beatrix also noted that they visited Food Lion as part of the research process and are impressed with the availability and prices. "Angelo and I always say the eggs are going to taste the same where ever you go, so you better be sure and have done enough research to be happy about where you're moving because the eggs are not gonna taste any different!"
Angelo and Beatrix had planned to buy a resale home, but when they saw how affordable it is to build here, they decided to go for it! Because they did their research before the meetings, they were able to choose a lot, builder, floor plan, and make the initial design decisions during one long weekend. All appliances were chosen with one trip to the builder's appliance vendor.
During the build, they were able to view video progress via their agent and builder. They also made a few trips throughout the 14-month build to check progress in person. Beatrix described the finished project as a once-in-a-lifetime dream come true. She and Angelo could not be happier to be a part of Savannah Lakes Village! Welcome to you both!
Meet Bob and Liz
While living in Michigan, Liz was researching active adult communities online when Savannah Lakes Village caught her eye. She convinced Bob to visit Savannah Lakes Village on their way back from vacation in Florida, and they "Just fell in love with it... the area just reminded us so much of northern Michigan with all the pines! It was just beautiful, and it wasn't congested likes some of the other retirement communities we toured."
They loved the peacefulness of the village and noted that many of the other communities they visited were "very city-like: crowded and congested with houses on top of small lots."
Bob and Liz were impressed with the affordability of building a new home here, especially with the lake so close to their lot and all of the amenities Savannah Lakes Village offers. Bob is a hunter, and he was thrilled to learn that there are hunting areas very close by. They chose a lot, builder, and floor plan in two visits. On the second visit, they picked out all of their appliances and had their design meeting. "Delightful working with the designer!" Liz said, "She was so helpful and had great ideas."
Their house in Michigan sold within three days of going on the market, so Bob and Liz moved to Savannah Lakes Village shortly after their build had begun. They lived in a rental while their home was built and described that time as an eight-month vacation. Both are very active, so they plugged into the Recreation Center immediately. Bob plays pickleball and swims almost daily. Liz enjoys the fitness classes and loves walking in our beautiful neighborhoods.
We are thrilled to welcome these four wonderful people to our village! Hope you come and visit us soon to see why our community is so special.