"Growing up in Pennsylvania, there was never a shortage of antique and consignment stores," explains MT Nesters' co-owner, Tracy Fee. When she and her husband Moe met, they shared a love of treasure hunting and had two houses filled with unique furniture and accessories. One of their favorite weekend adventures was going antiquing together. Having two homes there, we purchased and furnished our houses with unique furniture and accessories that we found during our weekend adventures to these stores. When they combined households, Tracy and Moe decided to store treasures that would later become the foundational inventory for MT Nesters. Again, when they moved to Savannah Lakes Village and into semi-retirement, Tracy and Moe held onto their excess treasures from the downsize.
Running an antique store was always a part of their long-term retirement plan, but they didn't expect to open one so soon! Last year, during the pandemic, they happened upon the perfect space to rent in the center of McCormick and decided they had plenty of inventory to get started. That original inventory sold quickly during the furniture shortage. MT Nesters continues to bustle as Tracy and Moe replenish through estate sales and networking with downsizers.
Since both still have adult children in Pennsylvania, the term "empty nesters" came to mind when naming the store. The "M" is for Moe, and the "T" is for Tracy, thus the analogy: MT Nesters!
The furniture shortage sped things up; however, the impeccable quality of MT Nesters' merchandise, the delightful personalities of both owners, and Tracy's elegant decorating style are what make them so successful. Tracy brings thirty-one years of kitchen and bath design experience and a keen eye for aesthetics to her customers: "I love to decorate and create new colorful and interesting spaces...I offer the service of design assistance and have also already gotten involved in Estate sales. It makes us so happy when someone comes to the store and finds that special something that brings them joy or that perfect gift for a friend or family member. When you visit MT Nesters, you'll find an eclectic array of items arranged in a way to tease your imagination or give you ideas. I use an a-la-carte concept to help visualize combination possibilities."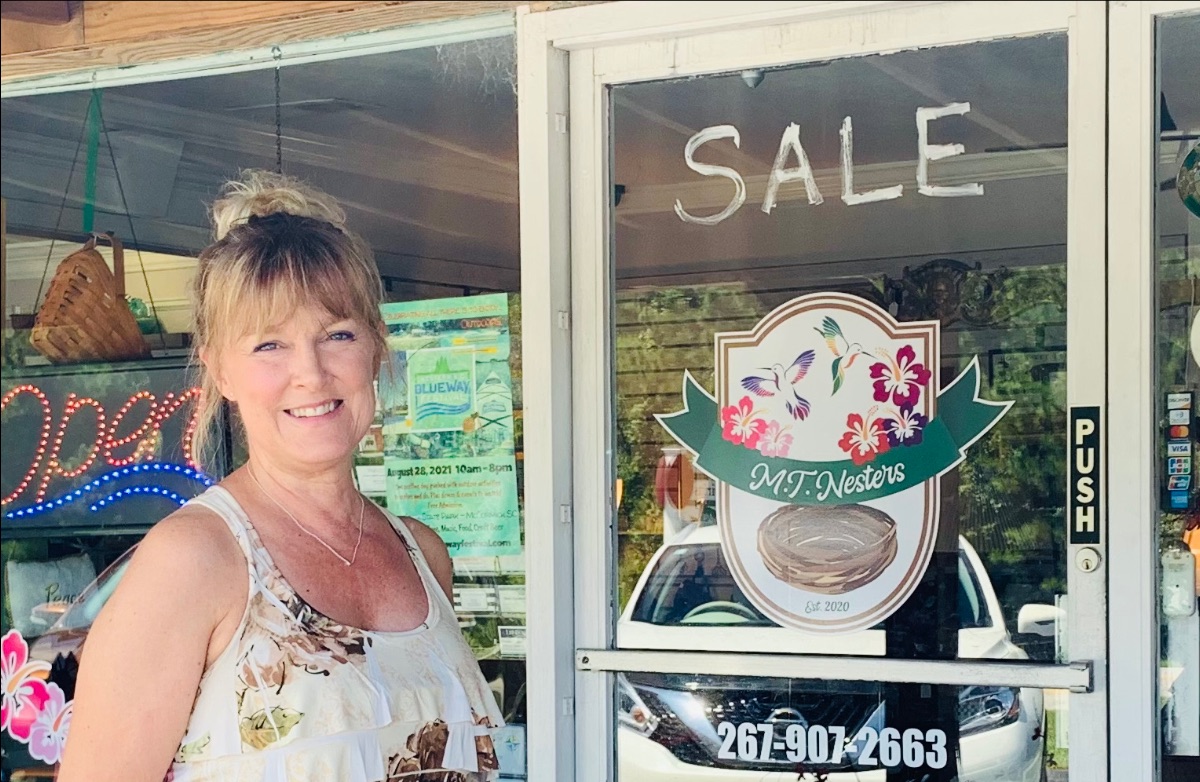 Visit MT Nesters' website and browse select items, but be sure to stop in to meet Tracy and Moe and to treasure hunt when you visit! They are located at 4563 Highway 378; hours of operation are from noon-5 p.m. Wednesday, Thursday, and Friday and from 10 a.m. until 4 p.m. on Saturdays.